COCKTAIL RECEPTION
CHAMPAGNE WELCOME STATION
Each Guest entering Cocktail Hour will be
greeted with a Glass of Champagne with Fresh Strawberries.
Charcuterie and Cheese Station
Aged Shaved Parmesan Reggiano Wheel
Manchego and Asiago Cheeses
French Brie and Smoked Gouda
Prosciutto Mortadella
Hot and Sweet Soppressata
Genoa Salami
Capicola
Mediterranean Table
Quinoa with Fava Beans and Craisins
Couscous with Corn, Lemon Cilantro and Seasonal Vegetables
Fresh Vine Ripe Tomatoes with House made Fresh Mozzarella
with Basil and Balsamic Glaze
Mediterranean Olives with Pepperoncini, Gherkins and Hot Peppers
Roasted Red and Yellow Peppers with Pesto Basil Oil
---
BUTLER-PASSED HORS D'OEURVES
Baby Lamb Chops with Balsamic Port Glaze
Coconut Shrimp with Pineapple Habanero
Crab Cakes with Remoulade Sauce
Buffalo Chicken Dumplings with Bleu Cheese Dipping Sauce
Spinach and Artichoke Tartlet
Sesame Chicken with Thai Chili
Spanakopita
Franks in a Blanket with Spicy Mustard
Seasonal Soup and Sandwich Shooter
Fig and Boursin with Pickled Blueberries
Scallops Wrapped in Bacon
Passed Assorted Sushi
---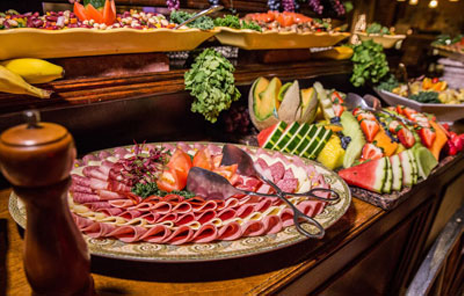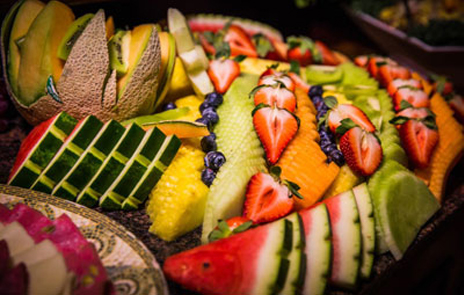 TUSCAN TABLE
Iced Fresh Crudité with Gorgonzola Dipping Sauce
Seasonal Fresh Fruit Platters with Exotic Accents
Pasta Primavera with Garlic and Oil
Assorted Domestic Cheeses with Seasonal Grapes
Wild Mushrooms with a Balsamic Vinaigrette
Farm Fresh Wild Grains with a Vegetable Medley
Julienne Vegetables and Blood Orange Marinade
---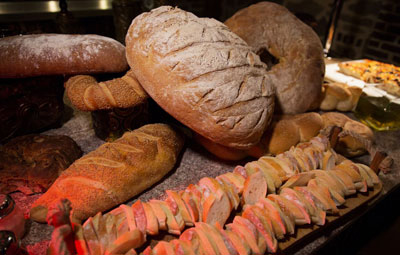 OPEN HEARTH BAKED BREADS
A collection of Italian Baguettes and Artisanal Breads
Freshly presented with Herb infused Olive Oil and Artichoke Tapenade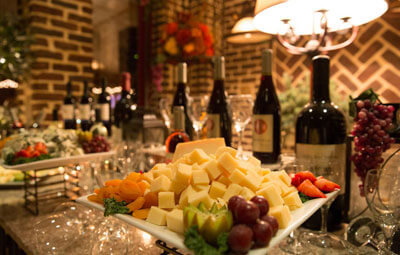 WINE TASTING
Featuring Varietals of Wine from Different Regions, Imported and Domestic Cheeses, Crackers, and Fresh Fruit
---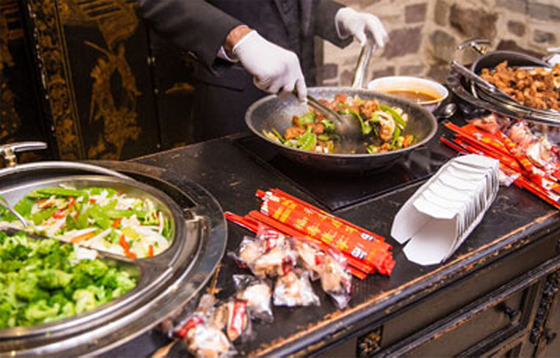 ASIAN FLARE
Oriental Vegetable Stir Fry, Chicken with Broccoli, Pan Fried Vegetable Dumplings with Orange Sesame Dip, Thai Chili Noodles
Seaweed Salad. Served in Traditional Take Out Containers with Chopsticks and Fortune Cookies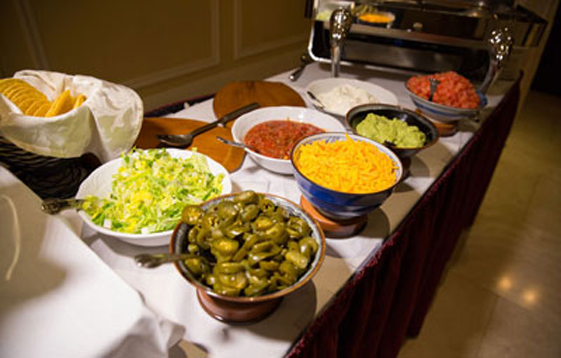 SOUTH OF THE BORDER
Shrimp and Spicy Ground Beef
Served with: Guacamole, Pico de Gallo, Black Olives, Diced Tomatoes,
Shredded Cheese, Salsa, and Sour Cream
With Soft Jumbo Flour Tortillas and Assorted Tortilla Chips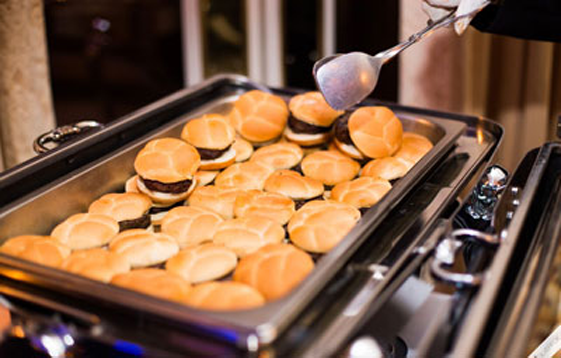 7TH "INN"ING STRETCH
Mini Burgers, Pulled Pork Sliders, Mini Hot Dogs all served on Miniature Buns
Served with: Cheddar Cheese, Bacon, Onions, Pickles, Tomatoes, Sauerkraut, Ketchup, Thousand Island Dressing, and Mustard
Accompanied with: Pommes Frites served in Paper Cones
PASTA STATION
HOST'S CHOICE OF TWO PASTAS AND TWO SAUCES – SAUTEED TO ORDER
Penne, Rigatoni, Orecchiette, Fusilli • Vodka Sauce, Filetto di Pomodoro, Alfredo Sauce, Bolognese Sauce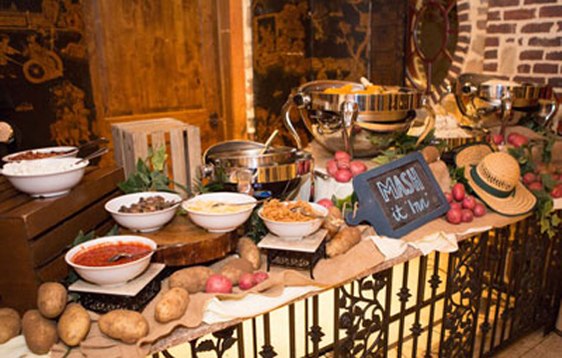 MASH IT "INN"
Creamy Whipped Potatoes served in Martini Glasses with Assorted Toppings
Traditional Roasted Garlic and Sweet Potato
Toppings to Include:
Chopped Bacon, Scallions, Sour Cream, Shredded Cheese, Crispy Fried Onions, Brown Gravy, Maple Syrup and Miniature Marshmallows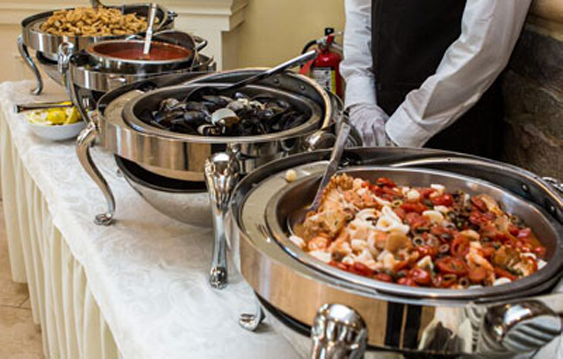 SEAFOOD BAKE
Fried Calamari with Marinara Sauce, Clams and Mussels with host's choice of: Marinara or Luciano Sauce, Shrimp Scampi
STEAKHOUSE STATION
(Host's Choice of One – Carved to Order)
Tao's Marinated Skirt Steak, Adobo Rubbed Loin of Pork, Tenderloin of Beef with Horseradish Cream
Maple Glazed Roast Turkey Breast with Fresh Cranberry Compote, Garlic and Thyme Infused Leg of Lamb with Rosemary Jus
Includes:
Classic Mac & Cheese
Creamed Spinach
Grilled Chicken Cordon Bleu
TOUCH OF TUSCANY
House made Eggplant Parmigiana, Broccoli di Rabe and Sausage, Boneless Chicken Scarpariello, Fried Zucchini with Spicy Ranch
SEATED DINNER
CHAMPAGNE TOAST
---
SALAD COURSE
HOST'S CHOICE OF ONE OF THE FOLLOWING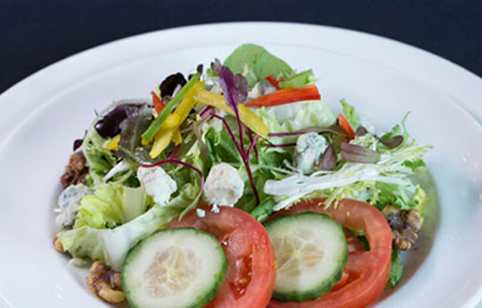 MIXED GREEN SALAD
Mixed Greens with Red and Yellow Tomatoes, Cucmber, Shaved Carrots with House Vinaigrette
TRI COLOR SALAD
Cucumber, Red and Yellow Tomatoes, Mandarin Orange, Craisins, and
Shaved Parmesan with Balsamic Vinaigrette.
TRADITIONAL CAESAR SALAD
Romaine Lettuce, Shaved Parmesan, and Croutons, with
Classic Caesar Dressing.
---
Pasta COURSE
HOST'S CHOICE OF ONE OF THE FOLLOWING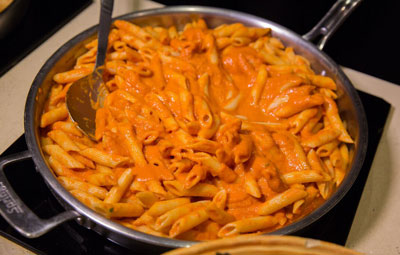 Wild Mushroom Truffle Risotto
Penne ala Amatriciana
Bacon, Onion & Tomato Sauce
Penne a la Vodka
Onion, Prosciutto, Tomato & a Touch of Cream
---
Combination COURSE
IN LIEU OF FIRST AND SECOND COURSE, HOSTS CHOICE OF ONE OF THE FOLLOWING: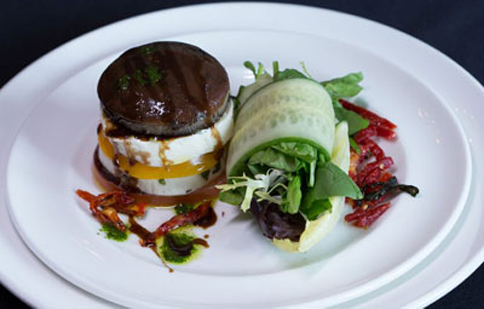 CLASSIC INN SALAD WITH CHILLED SHRIMP WITH MANGO SALSA
Mesclun Greens, Roquefort Cheese, Glazed Walnuts, with Raspberry Vinaigrette
MOZZARELLA NAPOLEON WITH MESCLUN GREENS
Parma Prosciutto and Vine Ripened Tomatoes with Field Greens wrapped in a Cucumber Ribbon with Balsamic Vinaigrette
SEARED HOUSE MADE CRAB CAKE WITH CHIPOTLE AIOLI AND FIELD GREENS
Field Greens wrapped in Cucumber Ribbon with Corn and Black Bean Salsa with Avocado Ranch
Freshly Baked Rolls and Sweet Grade A Butter
MAIN COURSE
GUEST'S CHOICE FROM FOUR, PLUS VEGETARIAN OPTION
ALL ENTREES SERVED WITH SEASONED POTATOES OR
RICE AND SEASONAL BABY VEGETABLES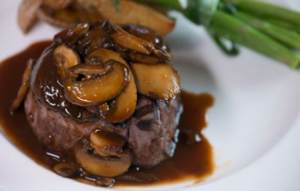 BLACK ANGUS FILET MIGNON
Served with Host's Choice of either Wild Mushroom
or Bordelaise Sauce.
SAUTEED SHRIMP
Cognac Lobster Sauce
STUFFED FRENCH CHICKEN BREAST
Spinach, Mozzarella, and Parmigiana Cheese with
Shallot Cream Sauce.
PORK CHOP MILANESE
With arugula, julienne Tomatoes, diced Mozzarella, and
Truffle Balsamic Glaze.
GRILLED SALMON
Served with Host's Choice of either Horseradish Crusted and served with Beurre Blanc Sauce or Soy Sesame Sauce
DESSERT COURSE
TIERED WEDDING CAKE AND SWEET SENSATION
HOST'S CHOICE OF ONE OF THE FOLLOWING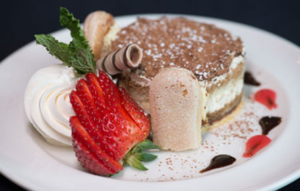 TRADITIONAL TIRAMISU
Italian Coffee flavored Dessert made with Mascarpone Cheese and
Sprinkled with Powdered Sugar
FRESH FRUIT PILLOW
Seasonal fresh fruit served in puff pastry, with bavarian cream
and raspberry drizzle
SMORE'S MARTINI
Served with Graham Cracker, Chocolate Pudding and Marshmallow.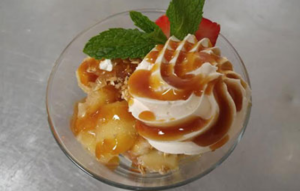 APPLE CRISP A LA MODE
Served with Vanilla Ice Cream and Caramel Drizzle, G arnished with Mint
BROWNIE ICE CREAM SUNDAE
Served with Vanilla Ice Cream and topped with a Raspberry Coulis.
ACCOMPANIED BY
Freshly Brewed Coffee and Gourmet Tea Service, Cappuccino, Espresso and Full cordial Bar
WITH OUR
COMPLIMENTS
Premium Liquor, Imported and Domestic Beers, Variety of House Wines
Champagne Toast
Bottle of Red and White Wine on each Guest Table
After Dinner Cordial Bar
Freshly Brewed Regular and Decaffeinated Coffee, Cappuccino, Espresso
and Assorted Gourmet Teas
White Glove Service
Personalized Printed Menus
Direction Cards
Place Cards
Coat Check Service (Seasonal)
Bridal Attendants
Restroom Attendants
Valet Parking
Ivory Damask Linens with Matching Napkins
Services of Our "INN" House Event Planning Team