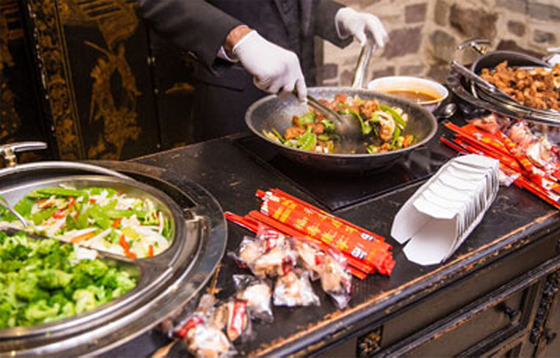 ASIAN FUSION
Oriental Vegetable Stir Fry, Beef or Chicken with Broccoli, Pan-Fried Vegetable Dumplings with Orange Sesame Dip, Thai Chili Noodles,
and Seaweed Salad served in traditional take-out containers with chopsticks and Fortune Cookies.
Hot Mediterranean Seafood Bar
Lobster Tail Marechiare, Baked Clams Oreganata, Scallops Provencale, Stuffed Fillet of Sole, and Mussels Luciano.
SPANISH SPICE
Arroz con Pollo, Chorizo with Tomatoes, and Mussels
with Saffron Cream Sauce. Accompanied with Red Sangria.
SAN GENNARO FEAST
Sausage and Peppers, Meatball Parmigiana, fresh baked mini
Hero Bread, and fried half-moon Ravioli.
Suckling Pig
Marinated and slowly roasted with seasoned Green Rice, garnished with Tropical Fruit, and served with homemade Applesauce.
Over 200 guests – 2 pigs recommended
Peking Duck (Chinese Décor)
Pan-seared crispy breast of Long Island Duck sliced to order, accompanied with Hoisin Sauce, Moo Shu Pancakes, Chopped Scallions, and Fresh Ginger.
" class="img-fluid">
STEAKHOUSE STATION
HOST'S CHOICE OF ONE – SAUTEED TO ORDER
Tao's Marinated Skirt Steak, Apple Stuffed Pork Loin, Adobo-Rubbed Loin of Pork, Maple Glazed Roast Turkey Breast with Fresh Cranberry Compote, Garlic and Thyme-Infused Roast Leg of Lamb with Rosemary Jus, Honey Glazed Corned Beef with assorted Mustards.
Accompanied with: Grilled Chicken Cordon Bleu, Creamed Spinach, Loaded Mashed Potatoes
RISOTTO STATION
Wild Mushroom Risotto, and Venetian Risotto with Clams, Mussels, Baby Shrimp, and Scallops.
TOUCH OF TUSCANY
Eggplant Rollatini, Broccoli Rabe with Sausage, Chicken Scarpariello, Tilapia Oreganata, Fried Ravioli, and Artisan Pepperoni Breads.
Passed Hors d'Oeuvres
A variety of butler-passed Hors d'Oeuvres, chosen by our Chef to compliment your event menu.
Speak with your representative regarding selection
Pasta Station
Host's Choice of Two—Sautéed to Order
Penne alla Vodka • Rotelle Primavera • Rigatoni Filetto di Pomodoro or Bolognese • Orecchiette with Broccoli Rabe, Garlic, and Olive Oil • Mini Ravioli a la Mulberry with Sweet Baby Peas in Alfredo Sauce.
Japanese Sushi and Sashimi Bar
Our delectable display with an assortment of freshly rolled California (Maki), Tuna (Tekka), and Cucumber (Kappa) Rolls, plus tasty pieces of Yellowtail Tuna (Nigiri), Shrimp, and Salmon.
With chef – rolled to order