Baby Showers 101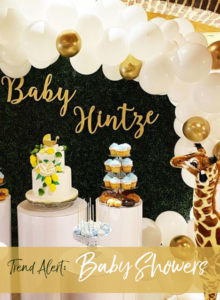 Display by Making Your Dreams Reality Events
Whether you're expecting yourself or planning for your mom-to-be gal pal, an excited Grandma or Aunt to be we're here to help you plan the best baby shower to help welcome the new member of your family!
Set the date and time
Though it seems like the most obvious part of the event, you want to make sure you book your baby shower before your little one is a guest at the shower with you. The date is obviously going to differ between each pregnancy and is dependent on you and your guests availability, but we suggest throwing it during the 20 – 30 week mark (this way you can get your "baby belly" photos).  If you're looking to host it at a venue, like here at The Inn, call sooner than later for availability.
Create your guest list
Your baby shower is your time to celebrate the new chapter of your life with the ones closest to you, so when creating a guest list include your close friends and family to ensure you're surrounded by lots of love during the day. Now, the age-old question: do the boys come? And that's completely up to you! Showers are more and more becoming a family affair, where all are invited.
Create your gift registry
Making a registry for your guests helps let them know everything you need to make your little ones welcome as warm as possible. Try to set up your registry as early as possible to allow your guests time to shop! Try to limit your registry to no more than three stores so it's easier to keep track of (for you and your guests)!  Be sure to have the option of having the gift mailed directly to your home.  People are shopping on line more and more, this option makes it more convenient for all.
Pick a theme and menu
Now that the date's set, it's time to start the fun part: planning decorations! Decide whether you want your shower to be themed or not. Popular themes to pick from are rubbery ducks, safari, nautical, storybook, and so on – the possibilities are endless! Of course, you can always stick with the traditional pink or blue color scheme depending on your little one's gender or go gender neutral with green or yellow if you're looking to be surprised on your due date. No matter the theme, our team at The Inn at New Hyde Park can help connect you to some of Long Islands top vendors to help put together stunning dessert displays, balloon walls, and more!
Next, it's time to choose what you'll be eating! Here at the Inn we offer a special sit-down dinner menu specifically for showers including a cocktail reception and four courses to help guide you in the right direction. We also offer a Brunch Buffet menu, with fun specialty station options.  Ask our award-winning Event Planners how to customize your event with our upgrades and deco specialties, get ready to be INNspired!
Create a schedule of events
We suggest you make a list of everything you want you and your guests to do during your shower. Whether it's a game (or multiple) you want to play, gift opening, eating, or whatever other fun things we come up with in the planning process, you want to make sure you allot enough time for everything you want to do!
What are you waiting for!? Fill out the form below, let's start planning and welcome your little one the right way! Throw your Shower at The Inn at New Hyde Park for an INNspiring event!